Port Number Display Mapping
LogZilla automatically maps port numbers to their respective IANA-Assigned names (see below for a list) to make it more human-friendly when creating UI widgets.
If there is an app or a rule assigned to handle the particular type of log message, LogZilla will read the numeric port number and determine the appropriate service name.
For example, when DstPort or similar user tags are set regarding the network port in the message, it will display the service name rather than the number in widgets on the dashboard.
Here's an example of a pie chart widget and a list widget showing how the port service names would be used rather than the port numbers.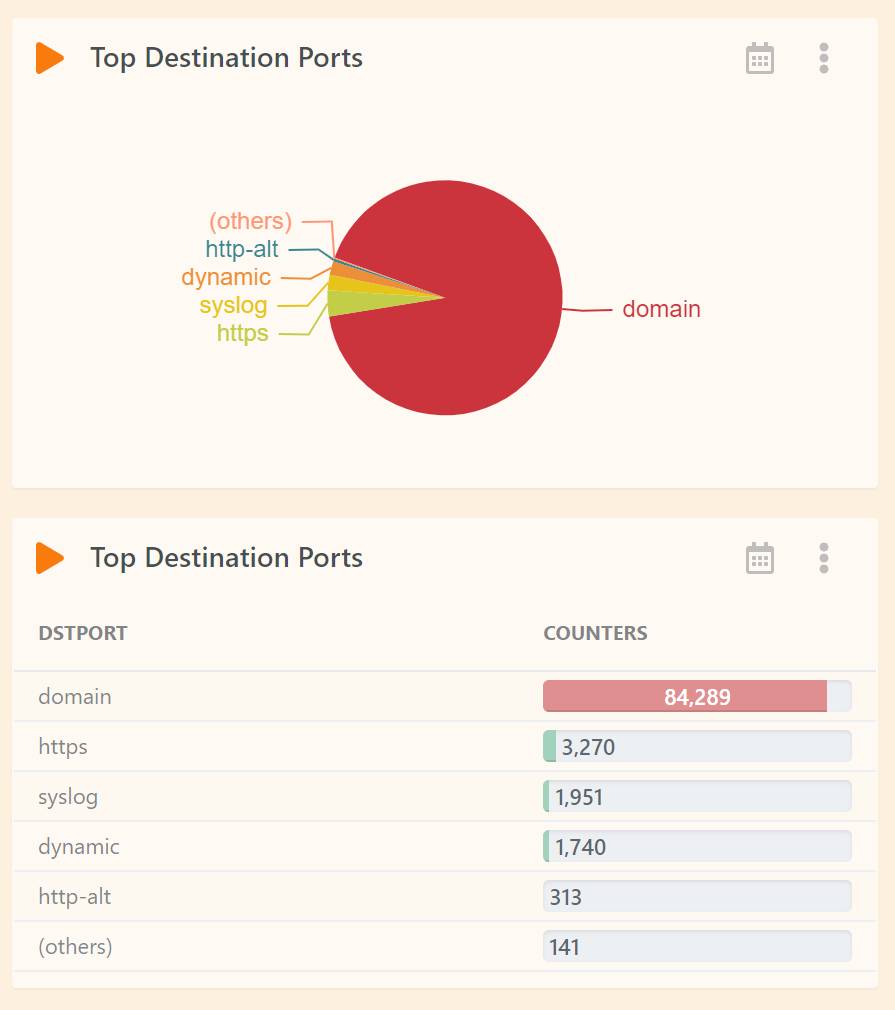 Note that when drilling down into the actual message in the search results, the original log message will be left as-is, showing the numeric port number so that the original message is preserved.
Here's an example showing how the numeric port numbers are retained when examining the log message detail.

IANA-Assigned Ports
TCP and UDP port numbers are generally assigned to specific recipient services or purposes for the connection. Those port assignments are listed below. Please note that some of the port assignments are officially standardized by the Internet Assigned Numbers Authority (IANA), while some have become accepted as common use, but not "officially" assigned by IANA.
Port numbers that are listed twice, mean there are or have been multiple different uses of that same port number by various organizations.
LogZilla maps all of the following port numbers to their respective names. Anything outside of this port range is marked as a "Dynamic" port since there is no official (or unofficial) documentation on that port.
Network Port Service Descriptions
| Port Number | TCP | UDP | Service Name | Description |
| --- | --- | --- | --- | --- |
| 1 | Yes | Assigned | rtmp | TCP Port Service Multiplexer (TCPMUX). Historic. Both TCP and UDP have been assigned to TCPMUX by IANA, but by design, only TCP is specified. |
| 2 | Assigned | | nbp | compressnet (Management Utility) |
| 4 | Unofficial | Unofficial | echo | n/a |
| 6 | Unofficial | Unofficial | zip | n/a |
| 7 | Yes | | echo | Echo Protocol |
| 9 | Yes | | discard | Discard Protocol |
| 9 | No | Unofficial | discard | Wake-on-LAN |
| 11 | Yes | | systat | Active Users (systat service) |
| 13 | Yes | | daytime | Daytime Protocol |
| 15 | Unofficial | No | netstat | Previously netstat service |
| 17 | Yes | | qotd | Quote of the Day (QOTD) |
| 18 | Yes | | msp | Message Send Protocol |
| 19 | Yes | | chargen | Character Generator Protocol (CHARGEN) |
| 20 | Yes | Assigned | ftp-data | File Transfer Protocol (FTP) data transfer |
| 21 | Yes | Assigned | fsp | File Transfer Protocol (FTP) control (command) |
| 22 | Yes | Assigned | ssh | Secure Shell (SSH), secure logins, file transfers (scp, sftp), and port forwarding |
| 23 | Yes | Assigned | telnet | Telnet protocol?unencrypted text communications |
| 25 | Yes | Assigned | smtp | Simple Mail Transfer Protocol (SMTP), used for email routing between mail servers |
| 37 | Yes | | time | Time Protocol |
| 39 | Unofficial | Unofficial | rlp | n/a |
| 42 | Assigned | Yes | nameserver | Host Name Server Protocol |
| 43 | Yes | Assigned | whois | WHOIS protocol |
| 49 | Yes | | tacacs | TACACS Login Host protocol. TACACS+, still in draft which is an improved but distinct version of TACACS, only uses TCP 49. |
| 50 | Assigned | | re-mail-ck | re-mail-ck (Remote Mail Checking Protocol) |
| 53 | Yes | Yes | domain | Domain Name System (DNS) |
| 57 | Unofficial | Unofficial | mtp | n/a |
| 65 | Assigned | | tacacs-ds | tacacs-ds (TACACS-Database Service) |
| 67 | Assigned | Yes | bootps | Bootstrap Protocol (BOOTP) server; also used by Dynamic Host Configuration Protocol (DHCP) |
| 68 | Assigned | Yes | bootpc | Bootstrap Protocol (BOOTP) client; also used by Dynamic Host Configuration Protocol (DHCP) |
| 69 | Assigned | Yes | tftp | Trivial File Transfer Protocol (TFTP) |
| 70 | Yes | Assigned | gopher | Gopher protocol |
| 77 | Unofficial | Unofficial | rje | n/a |
| 79 | Yes | Assigned | finger | Finger protocol |
| 80 | Yes | Yes | http | Hypertext Transfer Protocol (HTTP) uses TCP in versions 1.x and 2. HTTP/3 uses QUIC, a transport protocol on top of UDP. |
| 87 | Unofficial | Unofficial | link | n/a |
| 88 | Yes | Yes | kerberos | Kerberos authentication system |
| 95 | Yes | Assigned | supdup | SUPDUP, terminal-independent remote login |
| 98 | Assigned | | linuxconf | tacnews (TAC News) |
| 101 | Yes | Assigned | hostnames | NIC host name |
| 102 | Yes | Assigned | iso-tsap | ISO Transport Service Access Point (TSAP) Class 0 protocol; |
| 104 | Yes | Yes | acr-nema | Digital Imaging and Communications in Medicine (DICOM; also port 11112) |
| 105 | Yes | Yes | csnet-ns | CCSO Nameserver |
| 106 | Unofficial | No | poppassd | macOS Server, (macOS) password server |
| 107 | Yes | Yes | rtelnet | Remote User Telnet Service (RTelnet) |
| 109 | Yes | Assigned | pop2 | Post Office Protocol, version 2 (POP2) |
| 110 | Yes | Assigned | pop3 | Post Office Protocol, version 3 (POP3) |
| 111 | Yes | Yes | sunrpc | Open Network Computing Remote Procedure Call (ONC RPC, sometimes referred to as Sun RPC) |
| 113 | Yes | No | auth | Ident, authentication service/identification protocol, used by IRC servers to identify users |
| 113 | Yes | Assigned | auth | Authentication Service (auth), the predecessor to identification protocol. Used to determine a user's identity of a particular TCP connection. |
| 115 | Yes | Assigned | sftp | Simple File Transfer Protocol |
| 117 | Yes | Yes | uucp-path | UUCP Mapping Project (path service)[citation needed] |
| 119 | Yes | Assigned | nntp | Network News Transfer Protocol (NNTP), retrieval of newsgroup messages |
| 123 | Assigned | Yes | ntp | Network Time Protocol (NTP), used for time synchronization |
| 129 | Unofficial | Unofficial | pwdgen | n/a |
| 135 | Yes | Yes | loc-srv | DCE endpoint resolution |
| 135 | Yes | Yes | loc-srv | Microsoft EPMAP (End Point Mapper), also known as DCE/RPC Locator service, used to remotely manage services including DHCP server, DNS server and WINS. Also used by DCOM |
| 137 | Yes | Yes | netbios-ns | NetBIOS Name Service, used for name registration and resolution |
| 138 | Assigned | Yes | netbios-dgm | NetBIOS Datagram Service |
| 139 | Yes | Assigned | netbios-ssn | NetBIOS Session Service |
| 143 | Yes | Assigned | imap2 | Internet Message Access Protocol (IMAP), management of electronic mail messages on a server |
| 161 | Assigned | Yes | snmp | Simple Network Management Protocol (SNMP)[citation needed] |
| 162 | Yes | Yes | snmp-trap | Simple Network Management Protocol Trap (SNMPTRAP)[citation needed] |
| 163 | Unofficial | Unofficial | cmip-man | n/a |
| 164 | Unofficial | Unofficial | cmip-agent | n/a |
| 174 | Unofficial | Unofficial | mailq | n/a |
| 177 | Yes | Yes | xdmcp | X Display Manager Control Protocol (XDMCP), used for remote logins to an X Display Manager server[self-published source] |
| 178 | Unofficial | Unofficial | nextstep | n/a |
| 179 | Yes | Assigned | bgp | Border Gateway Protocol (BGP), used to exchange routing and reachability information among autonomous systems (AS) on the Internet |
| 191 | Unofficial | Unofficial | prospero | n/a |
| 194 | Yes | Yes | irc | Internet Relay Chat (IRC) |
| 199 | Yes | Yes | smux | SNMP Unix Multiplexer (SMUX) |
| 201 | Yes | Yes | at-rtmp | AppleTalk Routing Maintenance |
| 202 | Unofficial | Unofficial | at-nbp | n/a |
| 204 | Unofficial | Unofficial | at-echo | n/a |
| 206 | Unofficial | Unofficial | at-zis | n/a |
| 209 | Yes | Assigned | qmtp | Quick Mail Transfer Protocol[self-published source] |
| 210 | Yes | Yes | z3950 | ANSI Z39.50 |
| 213 | Yes | Yes | ipx | Internetwork Packet Exchange (IPX) |
| 220 | Yes | Yes | imap3 | Internet Message Access Protocol (IMAP), version 3 |
| 345 | Unofficial | Unofficial | pawserv | n/a |
| 346 | Unofficial | Unofficial | zserv | n/a |
| 347 | Unofficial | Unofficial | fatserv | n/a |
| 369 | Yes | Yes | rpc2portmap | Rpc2portmap |
| 370 | Yes | Yes | codaauth2 | codaauth2, Coda authentication server |
| 370 | | Yes | codaauth2 | securecast1, outgoing packets to NAI's SecureCast serversAs of 2000 |
| 371 | Yes | Yes | clearcase | ClearCase albd |
| 372 | Unofficial | Unofficial | ulistserv | n/a |
| 389 | Yes | Assigned | ldap | Lightweight Directory Access Protocol (LDAP) |
| 406 | Unofficial | Unofficial | imsp | n/a |
| 427 | Yes | Yes | svrloc | Service Location Protocol (SLP) |
| 443 | Yes | Yes | https | Hypertext Transfer Protocol Secure (HTTPS) uses TCP in versions 1.x and 2. HTTP/3 uses QUIC, a transport protocol on top of UDP. |
| 444 | Yes | Yes | snpp | Simple Network Paging Protocol (SNPP), RFC 1568 |
| 445 | Yes | Yes | microsoft-ds | Microsoft-DS (Directory Services) Active Directory, Windows shares |
| 445 | Yes | Assigned | microsoft-ds | Microsoft-DS (Directory Services) SMB file sharing |
| 464 | Yes | Yes | kpasswd | Kerberos Change/Set password |
| 465 | Unofficial | Unofficial | urd | n/a |
| 487 | Unofficial | Unofficial | saft | n/a |
| 500 | Assigned | Yes | isakmp | Internet Security Association and Key Management Protocol (ISAKMP) / Internet Key Exchange (IKE) |
| 512 | Yes | | biff | Rexec, Remote Process Execution |
| 512 | | Yes | biff | comsat, together with biff |
| 513 | Yes | | who | rlogin |
| 513 | | Yes | who | Who |
| 514 | Unofficial | | syslog | Remote Shell, used to execute non-interactive commands on a remote system (Remote Shell, rsh, remsh) |
| 514 | No | Yes | syslog | Syslog, used for system logging |
| 515 | Yes | Assigned | printer | Line Printer Daemon (LPD), print service |
| 517 | | Yes | talk | Talk |
| 518 | | Yes | ntalk | NTalk |
| 520 | Yes | | route | efs, extended file name server |
| 520 | | Yes | route | Routing Information Protocol (RIP) |
| 525 | | Yes | timed | Timed, Timeserver |
| 526 | Unofficial | Unofficial | tempo | n/a |
| 530 | Yes | Yes | courier | Remote procedure call (RPC) |
| 531 | Unofficial | Unofficial | conference | n/a |
| 532 | Yes | Assigned | netnews | netnews |
| 533 | | Yes | netwall | netwall, for emergency broadcasts |
| 538 | Unofficial | Unofficial | gdomap | n/a |
| 540 | Yes | | uucp | Unix-to-Unix Copy Protocol (UUCP) |
| 543 | Yes | | klogin | klogin, Kerberos login |
| 544 | Yes | | kshell | kshell, Kerberos Remote shell |
| 546 | Yes | Yes | dhcpv6-client | DHCPv6 client |
| 547 | Yes | Yes | dhcpv6-server | DHCPv6 server |
| 548 | Yes | Assigned | afpovertcp | Apple Filing Protocol (AFP) over TCP |
| 549 | Unofficial | Unofficial | idfp | n/a |
| 554 | Yes | Yes | rtsp | Real Time Streaming Protocol (RTSP) |
| 556 | Yes | | remotefs | Remotefs, RFS, rfs_server |
| 563 | Yes | Yes | nntps | NNTP over TLS/SSL (NNTPS) |
| 587 | Yes | Assigned | submission | email message submission (SMTP) |
| 607 | Unofficial | Unofficial | nqs | n/a |
| 610 | Unofficial | Unofficial | npmp-local | n/a |
| 611 | Unofficial | Unofficial | npmp-gui | n/a |
| 612 | Unofficial | Unofficial | hmmp-ind | n/a |
| 623 | | Yes | asf-rmcp | ASF Remote Management and Control Protocol (ASF-RMCP) & IPMI Remote Management Protocol |
| 628 | Unofficial | Unofficial | qmqp | n/a |
| 631 | Yes | Yes | ipp | Internet Printing Protocol (IPP) |
| 631 | Unofficial | Unofficial | ipp | Common Unix Printing System (CUPS) administration console (extension to IPP) |
| 636 | Yes | Assigned | ldaps | Lightweight Directory Access Protocol over TLS/SSL (LDAPS) |
| 655 | Yes | Yes | tinc | Tinc VPN daemon |
| 706 | Yes | | silc | Secure Internet Live Conferencing (SILC) |
| 749 | Yes | Yes | kerberos-adm | Kerberos administration |
| 750 | | Yes | kerberos4 | kerberos-iv, Kerberos version IV |
| 751 | Unofficial | Unofficial | kerberos-master | kerberos_master, Kerberos authentication |
| 752 | | Unofficial | passwd-server | passwd_server, Kerberos password (kpasswd) server |
| 754 | Yes | Yes | krb-prop | tell send |
| 754 | Unofficial | | krb-prop | krb5_prop, Kerberos v5 slave propagation |
| 760 | Unofficial | Unofficial | krbupdate | krbupdate , Kerberos registration |
| 765 | Unofficial | Unofficial | webster | n/a |
| 775 | Unofficial | Unofficial | moira-db | n/a |
| 777 | Unofficial | Unofficial | moira-update | n/a |
| 779 | Unofficial | Unofficial | moira-ureg | n/a |
| 783 | Unofficial | | spamd | SpamAssassin spamd daemon |
| 808 | Unofficial | | omirr | Microsoft Net.TCP Port Sharing Service |
| 871 | Unofficial | Unofficial | supfilesrv | n/a |
| 873 | Yes | | rsync | rsync file synchronization protocol |
| 901 | Unofficial | Unofficial | swat | n/a |
| 989 | Yes | Yes | ftps-data | FTPS Protocol (data), FTP over TLS/SSL |
| 990 | Yes | Yes | ftps | FTPS Protocol (control), FTP over TLS/SSL |
| 992 | Yes | Yes | telnets | Telnet protocol over TLS/SSL |
| 993 | Yes | Assigned | imaps | Internet Message Access Protocol over TLS/SSL (IMAPS) |
| 994 | Reserved | Reserved | ircs | Previously assigned to Internet Relay Chat over TLS/SSL (IRCS), but was not used in common practice. |
| 995 | Yes | Yes | pop3s | Post Office Protocol 3 over TLS/SSL (POP3S) |
| 1001 | Unofficial | Unofficial | customs | n/a |
| 1080 | Yes | Yes | socks | SOCKS proxy |
| 1093 | Unofficial | Unofficial | proofd | n/a |
| 1094 | Unofficial | Unofficial | rootd | n/a |
| 1099 | Yes | Assigned | rmiregistry | rmiregistry, Java remote method invocation (RMI) registry |
| 1109 | Reserved | Reserved | kpop | Reserved |
| 1127 | Unofficial | Unofficial | supfiledbg | n/a |
| 1178 | Unofficial | Unofficial | skkserv | n/a |
| 1194 | Yes | Yes | openvpn | OpenVPN |
| 1210 | Unofficial | Unofficial | predict | n/a |
| 1214 | Yes | Yes | kazaa | Kazaa |
| 1236 | Unofficial | Unofficial | rmtcfg | n/a |
| 1241 | Unofficial | Unofficial | nessus | Nessus Security Scanner |
| 1300 | Unofficial | Unofficial | wipld | n/a |
| 1313 | Unofficial | Unofficial | xtel | n/a |
| 1314 | Unofficial | | xtelw | Festival Speech Synthesis System server |
| 1352 | Yes | Yes | lotusnote | IBM Lotus Notes/Domino (RPC) protocol |
| 1433 | Yes | Yes | ms-sql-s | Microsoft SQL Server database management system (MSSQL) server |
| 1434 | Yes | Yes | ms-sql-m | Microsoft SQL Server database management system (MSSQL) monitor |
| 1524 | Yes | Yes | ingreslock | ingreslock, ingres |
| 1525 | Unofficial | Unofficial | prospero-np | n/a |
| 1529 | Unofficial | Unofficial | support | n/a |
| 1645 | No | Unofficial | datametrics | Early deployment of RADIUS before RFC standardization was done using UDP port number 1645. Enabled for compatibility reasons by default on Cisco[citation needed] and Juniper Networks RADIUS servers. Official port is 1812. TCP port 1645 MUST NOT be used. |
| 1646 | No | Unofficial | sa-msg-port | Old radacct port,[when?] RADIUS accounting protocol. Enabled for compatibility reasons by default on Cisco[citation needed] and Juniper Networks RADIUS servers. Official port is 1813. TCP port 1646 MUST NOT be used. |
| 1649 | Unofficial | Unofficial | kermit | n/a |
| 1677 | Yes | Yes | groupwise | Novell GroupWise clients in client/server access mode |
| 1701 | Yes | Yes | l2f | Layer 2 Forwarding Protocol (L2F) |
| 1701 | Assigned | Yes | l2f | Layer 2 Tunneling Protocol (L2TP) |
| 1812 | Yes | Yes | radius | RADIUS authentication protocol, radius |
| 1813 | Yes | Yes | radius-acct | RADIUS accounting protocol, radius-acct |
| 1863 | Yes | Yes | msnp | Microsoft Notification Protocol (MSNP), used by the Microsoft Messenger service and a number of instant messaging Messenger clients |
| 1957 | Unofficial | Unofficial | unix-status | n/a |
| 1958 | Unofficial | Unofficial | log-server | n/a |
| 1959 | Unofficial | Unofficial | remoteping | n/a |
| 2000 | Yes | Yes | cisco-sccp | Cisco Skinny Client Control Protocol (SCCP) |
| 2003 | Unofficial | Unofficial | cfinger | n/a |
| 2010 | Unofficial | | pipe-server | Artemis: Spaceship Bridge Simulator |
| 2049 | Yes | Yes | nfs | Network File System (NFS) |
| 2053 | Unofficial | Unofficial | knetd | n/a |
| 2086 | Yes | Yes | gnunet | GNUnet |
| 2086 | Unofficial | | gnunet | WebHost Manager default |
| 2101 | Unofficial | | rtcm-sc104 | Networked Transport of RTCM via Internet Protocol (NTRIP)[citation needed] |
| 2102 | Yes | Yes | zephyr-srv | Zephyr Notification Service server |
| 2103 | Yes | Yes | zephyr-clt | Zephyr Notification Service serv-hm connection |
| 2104 | Yes | Yes | zephyr-hm | Zephyr Notification Service hostmanager |
| 2105 | Unofficial | Unofficial | eklogin | n/a |
| 2111 | Unofficial | Unofficial | kx | n/a |
| 2119 | Unofficial | Unofficial | gsigatekeeper | n/a |
| 2121 | Unofficial | Unofficial | frox | n/a |
| 2135 | Unofficial | Unofficial | gris | n/a |
| 2150 | Unofficial | Unofficial | ninstall | n/a |
| 2401 | Yes | Yes | cvspserver | CVS version control system password-based server |
| 2430 | Unofficial | Unofficial | venus | n/a |
| 2431 | Unofficial | Unofficial | venus-se | n/a |
| 2432 | Unofficial | Unofficial | codasrv | n/a |
| 2433 | Unofficial | Unofficial | codasrv-se | n/a |
| 2583 | Unofficial | Unofficial | mon | n/a |
| 2600 | Unofficial | Unofficial | zebrasrv | n/a |
| 2601 | Unofficial | Unofficial | zebra | n/a |
| 2602 | Unofficial | Unofficial | ripd | n/a |
| 2603 | Unofficial | Unofficial | ripngd | n/a |
| 2604 | Unofficial | Unofficial | ospfd | n/a |
| 2605 | Unofficial | Unofficial | bgpd | n/a |
| 2606 | Unofficial | Unofficial | ospf6d | n/a |
| 2607 | Unofficial | Unofficial | ospfapi | n/a |
| 2608 | Unofficial | Unofficial | isisd | n/a |
| 2628 | Yes | Yes | dict | DICT |
| 2792 | Unofficial | Unofficial | f5-globalsite | n/a |
| 2811 | Yes | Yes | gsiftp | gsi ftp, per the GridFTP specification |
| 2947 | Yes | Yes | gpsd | gpsd, GPS daemon |
| 2988 | Unofficial | Unofficial | afbackup | n/a |
| 2989 | Unofficial | Unofficial | afmbackup | n/a |
| 3050 | Yes | Yes | gds-db | gds-db (Interbase/Firebird databases) |
| 3130 | Unofficial | Unofficial | icpv2 | n/a |
| 3260 | Yes | Yes | iscsi-target | iSCSI |
| 3306 | Yes | Assigned | mysql | MySQL database system |
| 3493 | Yes | Yes | nut | Network UPS Tools (NUT) |
| 3632 | Yes | Assigned | distcc | Distcc, distributed compiler |
| 3689 | Yes | Assigned | daap | Digital Audio Access Protocol (DAAP), used by Apple's iTunes and AirPlay |
| 3690 | Yes | Yes | svn | Subversion (SVN) version control system |
| 4031 | Unofficial | Unofficial | suucp | n/a |
| 4094 | Unofficial | Unofficial | sysrqd | n/a |
| 4190 | Yes | | sieve | ManageSieve |
| 4224 | Unofficial | Unofficial | xtell | n/a |
| 4353 | Unofficial | Unofficial | f5-iquery | n/a |
| 4369 | Unofficial | Unofficial | epmd | n/a |
| 4373 | Unofficial | Unofficial | remctl | n/a |
| 4500 | Assigned | Yes | ipsec-nat-t | IPSec NAT Traversal (RFC 3947, RFC 4306) |
| 4557 | Unofficial | Unofficial | fax | n/a |
| 4559 | Unofficial | Unofficial | hylafax | n/a |
| 4569 | | Yes | iax | Inter-Asterisk eXchange (IAX2) |
| 4600 | Unofficial | Unofficial | distmp3 | n/a |
| 4691 | Unofficial | Unofficial | mtn | n/a |
| 4899 | Unofficial | Unofficial | radmin-port | n/a |
| 4949 | Yes | | munin | Munin Resource Monitoring Tool |
| 5002 | Unofficial | | rfe | ASSA ARX access control system |
| 5050 | Unofficial | | mmcc | Yahoo! Messenger |
| 5051 | Yes | | enbd-cstatd | ita-agent Symantec Intruder Alert |
| 5052 | Unofficial | Unofficial | enbd-sstatd | n/a |
| 5060 | Yes | Yes | sip | Session Initiation Protocol (SIP) |
| 5061 | Yes[221] | | sip-tls | Session Initiation Protocol (SIP) over TLS |
| 5151 | Yes | | pcrd | ESRI SDE Instance |
| 5151 | | Yes | pcrd | ESRI SDE Remote Start |
| 5190 | Yes | Yes | aol | AOL Instant Messenger protocol. The chat app is defunct as of 15 December 2017. |
| 5222 | Yes | Reserved | xmpp-client | Extensible Messaging and Presence Protocol (XMPP) client connection |
| 5269 | Yes | | xmpp-server | Extensible Messaging and Presence Protocol (XMPP) server-to-server connection |
| 5308 | Unofficial | Unofficial | cfengine | n/a |
| 5353 | Assigned | Yes | mdns | Multicast DNS (mDNS) |
| 5354 | Unofficial | Unofficial | noclog | n/a |
| 5355 | Yes | Yes | hostmon | Link-Local Multicast Name Resolution (LLMNR), allows hosts to perform name resolution for hosts on the same local link (only provided by Windows Vista and Server 2008) |
| 5432 | Yes | Assigned | postgresql | PostgreSQL database system |
| 5555 | Unofficial | Unofficial | rplay | Oracle WebCenter Content: Inbound Refinery?Intradoc Socket port. (formerly known as Oracle Universal Content Management). Port though often changed during installation |
| 5555 | Unofficial | | rplay | Freeciv versions up to 2.0, Hewlett-Packard Data Protector, McAfee EndPoint Encryption Database Server, SAP, Default for Microsoft Dynamics CRM 4.0, Softether VPN default port |
| 5556 | Yes | Yes | freeciv | Freeciv, Oracle WebLogic Server Node Manager |
| 5666 | Unofficial | | nrpe | NRPE (Nagios) |
| 5667 | Unofficial | | nsca | NSCA (Nagios) |
| 5671 | Yes | Assigned | amqps | Advanced Message Queuing Protocol (AMQP) over TLS |
| 5672 | Yes | Assigned | amqp | Advanced Message Queuing Protocol (AMQP) |
| 5674 | Unofficial | Unofficial | mrtd | n/a |
| 5675 | Unofficial | Unofficial | bgpsim | n/a |
| 5680 | Unofficial | Unofficial | canna | n/a |
| 5688 | Unofficial | Unofficial | ggz | n/a |
| 6000 | Unofficial | Unofficial | x11 | n/a |
| 6001 | Unofficial | Unofficial | x11-1 | n/a |
| 6002 | Unofficial | Unofficial | x11-2 | n/a |
| 6003 | Unofficial | Unofficial | x11-3 | n/a |
| 6004 | Unofficial | Unofficial | x11-4 | n/a |
| 6005 | Unofficial | | x11-5 | Default for BMC Software Control-M/Server?Socket used for communication between Control-M processes?though often changed during installation |
| 6005 | Unofficial | | x11-5 | Default for Camfrog chat & cam client |
| 6006 | Unofficial | Unofficial | x11-6 | n/a |
| 6007 | Unofficial | Unofficial | x11-7 | n/a |
| 6346 | Yes | | gnutella-svc | gnutella-svc, gnutella (FrostWire, Limewire, Shareaza, etc.) |
| 6347 | Yes | | gnutella-rtr | gnutella-rtr, Gnutella alternate |
| 6444 | Yes | | sge-qmaster | Sun Grid Engine Qmaster Service |
| 6445 | Yes | | sge-execd | Sun Grid Engine Execution Service |
| 6446 | Unofficial | Unofficial | mysql-proxy | n/a |
| 6514 | Yes | | syslog-tls | Syslog over TLS |
| 6566 | Yes | | sane-port | SANE (Scanner Access Now Easy)?SANE network scanner daemon |
| 6667 | Unofficial | Unofficial | ircd | n/a |
| 7000 | Unofficial | | afs3-fileserver | Default for Vuze's built-in HTTPS Bittorrent tracker |
| 7000 | Unofficial | | afs3-fileserver | Avira Server Management Console |
| 7001 | Unofficial | | afs3-callback | Avira Server Management Console |
| 7001 | Unofficial | | afs3-callback | Default for BEA WebLogic Server's HTTP server, though often changed during installation |
| 7002 | Unofficial | | afs3-prserver | Default for BEA WebLogic Server's HTTPS server, though often changed during installation |
| 7003 | Unofficial | Unofficial | afs3-vlserver | n/a |
| 7004 | Unofficial | Unofficial | afs3-kaserver | n/a |
| 7005 | Unofficial | | afs3-volser | Default for BMC Software Control-M/Server and Control-M/Agent for Agent-to-Server, though often changed during installation |
| 7006 | Unofficial | | afs3-errors | Default for BMC Software Control-M/Server and Control-M/Agent for Server-to-Agent, though often changed during installation |
| 7007 | Unofficial | Unofficial | afs3-bos | n/a |
| 7008 | Unofficial | Unofficial | afs3-update | n/a |
| 7009 | Unofficial | Unofficial | afs3-rmtsys | n/a |
| 7100 | Unofficial | Unofficial | font-service | n/a |
| 8021 | Unofficial | Unofficial | zope-ftp | n/a |
| 8080 | Yes | | http-alt | Alternative port for HTTP. See also ports 80 and 8008. |
| 8080 | Unofficial | | http-alt | Apache Tomcat |
| 8080 | Unofficial | | http-alt | Atlassian JIRA applications |
| 8081 | Yes | Yes | tproxy | Sun Proxy Admin Service |
| 8088 | Unofficial | | omniorb | Asterisk management access via HTTP[citation needed] |
| 8990 | Unofficial | Unofficial | clc-build-daemon | n/a |
| 9098 | Unofficial | Unofficial | xinetd | n/a |
| 9101 | Yes | | bacula-dir | Bacula Director |
| 9102 | Yes | | bacula-fd | Bacula File Daemon |
| 9103 | Yes | | bacula-sd | Bacula Storage Daemon |
| 9359 | Unofficial | Unofficial | mandelspawn | n/a |
| 9418 | Yes | | git | git, Git pack transfer service |
| 9667 | Unofficial | Unofficial | xmms2 | n/a |
| 9673 | Unofficial | Unofficial | zope | n/a |
| 10000 | Yes | | webmin | Network Data Management Protocol (NDMP) Control stream for network backup and restore. |
| 10000 | Unofficial | | webmin | BackupExec |
| 10000 | Unofficial | | webmin | Webmin, Web-based Unix/Linux system administration tool (default port) |
| 10050 | Yes | | zabbix-agent | Zabbix agent |
| 10051 | Yes | | zabbix-trapper | Zabbix trapper |
| 10080 | Unofficial | Unofficial | amanda | n/a |
| 10081 | Unofficial | Unofficial | kamanda | n/a |
| 10082 | Unofficial | Unofficial | amandaidx | n/a |
| 10083 | Unofficial | Unofficial | amidxtape | n/a |
| 10809 | Unofficial | Unofficial | nbd | n/a |
| 11112 | Yes | | dicom | ACR/NEMA Digital Imaging and Communications in Medicine (DICOM) |
| 11201 | Unofficial | Unofficial | smsqp | n/a |
| 11371 | Yes | | hkp | OpenPGP HTTP key server |
| 13720 | Yes | | bprd | Symantec NetBackup?bprd (formerly VERITAS) |
| 13721 | Yes | | bpdbm | Symantec NetBackup?bpdbm (formerly VERITAS) |
| 13722 | Unofficial | Unofficial | bpjava-msvc | n/a |
| 13724 | Yes | | vnetd | Symantec Network Utility?vnetd (formerly VERITAS) |
| 13782 | Yes | | bpcd | Symantec NetBackup?bpcd (formerly VERITAS) |
| 13783 | Yes | | vopied | Symantec VOPIED protocol (formerly VERITAS) |
| 15345 | Yes | | xpilot | XPilot Contact |
| 17001 | Unofficial | Unofficial | sgi-cmsd | n/a |
| 17002 | Unofficial | Unofficial | sgi-crsd | n/a |
| 17003 | Unofficial | Unofficial | sgi-gcd | n/a |
| 17004 | Unofficial | Unofficial | sgi-cad | n/a |
| 17500 | Yes | | db-lsp | Dropbox LanSync Protocol (db-lsp); used to synchronize file catalogs between Dropbox clients on a local network. |
| 20011 | Unofficial | Unofficial | isdnlog | n/a |
| 20012 | Unofficial | Unofficial | vboxd | n/a |
| 22125 | Unofficial | Unofficial | dcap | n/a |
| 22128 | Unofficial | Unofficial | gsidcap | n/a |
| 22273 | Unofficial | Unofficial | wnn6 | n/a |
| 24554 | Yes | | binkp | BINKP, Fidonet mail transfers over TCP/IP |
| 27374 | Unofficial | | asp | Sub7 default. |
| 30865 | Unofficial | Unofficial | csync2 | n/a |
| 57000 | Unofficial | Unofficial | dircproxy | n/a |
| 60177 | Unofficial | Unofficial | tfido | n/a |
| 60179 | Unofficial | Unofficial | fido | n/a |